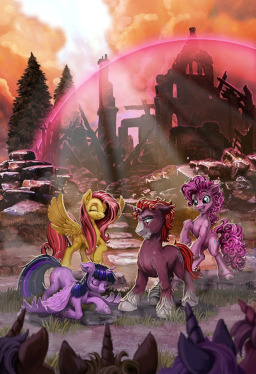 For a thousand years, there was just Celestia. Then Cadance appeared, Luna returned -- and now Twilight has ascended. There are ponies who are very curious about just what happened, why -- and how. Especially the how. Twilight herself is on that list, a freshly-minted princess with far more questions than answers, about to face a brand new one: what truly makes an alicorn?
And what happens if it goes wrong?
(Part of the Triptych Continuum, which has its own TVTropes page and FIMFiction group. New members and trope edits welcome.)
Now with author Patreon and Ko-Fi pages.
Cover art by Harwick.
Chapters (56)