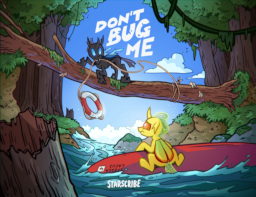 The summer season was just about over at Stella Lacus adventure summer camp. Amie and her younger brother Wes were eager to return home. Unfortunately for them, their adventures had only just begun.
All at once, the entire summer camp and the mountain it was built upon shifted universes, leaving Earth behind for a far stranger world. In the same moment, every camper, counselor, and staff-member transformed into strange insectoid creatures, with unknown powers and incomprehensible needs.
Instead of returning to nursing school, Amie has a new goal: keep her little brother alive. If only the other campers didn't look at him like food...
---
Updates every Saturday. Editing by Two Bit and Sparktail.
Awesome cover by SimonDrawsStuff.
This story was sponsored by Canary in the Coal Mine on my Patreon. Thanks so much for your support!
Chapters (58)