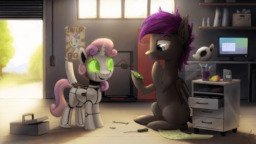 Source
Lucid Storm imagines a world beyond death, where no pony will ever need to truly say goodbye to the ones they love. When all the magic and medicine of Equestria failed one young Sweetie Belle, he proposed a radical new technique--total brain recording, taken minutes before her death.
Years have passed since that day, years spent scrounging the funding for a body and experimenting with many failed machine intelligence models before tinkerer ponies all around equestria finally came together in the perfect synthesis.
After all this time, Sweetie Belle will finally have her second chance.
---
Written for Lucid on my Patreon. Edited by Two Bit and Sparktail, who also sponsored it. Cover by Magfen. This brief short story will update daily.
Chapters (6)