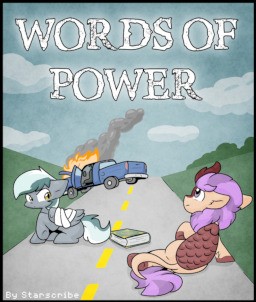 It wasn't Eric's fault he hit the alien with his truck. How was he supposed to see a dog-sized horse walking down the highway in the pouring rain? His life would've been simpler if he just left the animal like any other roadkill. But in his injured delirium, the horse spoke.
This accident soon ends with an intimate personal knowledge of just how dangerous magic can be. An ancient rises, tied to a mysterious tome the pegasus was protecting on the night of the accident. A malevolent force grows within those pages, whispering louder and louder about the cleansing flame. But without the spells inside that cursed tome, Eric's humanity will be gone forever.
He has no choice but to master the words of power contained within, before his life is turned to ashes around him
---
A commission for Muziki. Edited by Two Bit and Sparktail. Cover by Zutcha.
The various artistic works created for this story are credited to their artists within the chapter they appear.
Chapters (28)