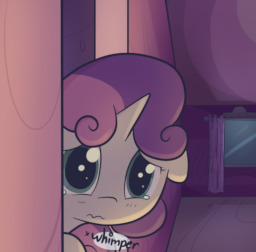 Levi, the only human in Equestria at this point in time, had been living peacefully for a couple months now. He has made many friends along the way, and has been staying at Twilight's Castle in Ponyville. However, one day, he is brought into the castle, unconscious. The ponies thought he was simply sick and was suffering from heat stroke, but what they discover will haunt them for the rest of their lives. This will make ponies realize who they really are...
...and why magic is such a worrisome source of power.
Told in perspective of Sweetie Belle.
---
A re-write/reimagination of the 2014-2015 classic. Will be posting this one regularly to finally get the story I wanted out back then.
Chapters (2)