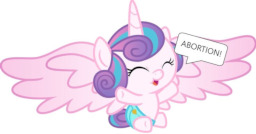 Flurry Heart learns some new words. Shining Armor is worried.
Cadance just wants to make sure she's not going to make her foal a mute.
Luna just wants to buy nuclear laxatives.
---
Was going to be a submission to Muggonny's Princess Cadance is a Terrible Mother contest. Shitpost galore inbound. Hope you all enjoy!
Pre-read by FamousLastWords.
First part written on my birthday. Second part written the day after.
Chapters (2)