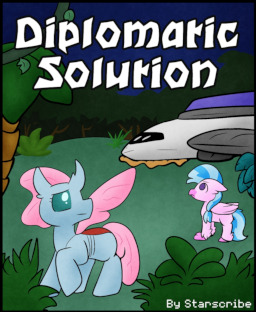 For centuries, the galaxy has burned in an eternal war. Wielding their magical might, the Enti sweep across space, slaughtering and enslaving all they encounter. A loose alliance of the remaining intelligence races, without magic of their own, can barely even slow them down.
Scouting on a remote edge of the galactic rim, humanity discovers a trump card: Equus. This planet overflows with magic, and has a culture inherently friendly and receptive to diplomacy. First contact was made, and soon all of Equus took a giant leap into the space age. Despite their incredible magic, Equestria is a minor power, with very little to offer the war. Instead of giving ships, Equus volunteer their diplomatic aptitude. They can't save the galaxy by force of arms, but maybe they can find the free people of the galaxy some powerful new friends.
Princess Twilight nominates six of her most loyal and trustworthy students to perform this incredible task. Armed with powerful artifacts of protection, they set out to meet with the only powerful neutral party in the war, and win them over to the Stellar Compact.
If they fail, all nonmagical life in the galaxy may be doomed to conquest and death. No pressure, Ocellus.
---
Cover by Zutcha. Edited by Two Bit and Sparktail
Commissioned by Vilken666 on my Patreon
Chapters (18)