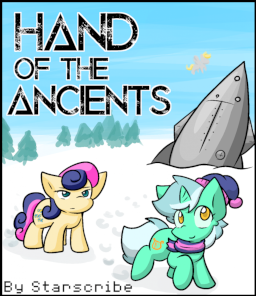 Since time immemorial, the Horn of Celestia has stood above the ancient northern glaciers. It is older than the Empire, older than Equestria itself. The tower carries many ancient legends, but the most credible is this: that during the time of strife, ponies sacrificed their greatest powers to come together into a single kingdom, committed to peace and friendship forevermore.
Lyra Heartstrings is convinced there is more to this story, and after years of preparation, she has arrived at the tower with an expedition of friends and fellow experts to discover the truth for herself. One way or another, she will discover the secrets concealed in the ancient horn, even if it costs her everything.
---
This story was written on my Patreon as a commission for HMage, but was one of the earliest casualties of the pandemic. As a result, only part 1 of 2 was written. There are roughly eleven chapters taking us to what was meant to be the halfway point of the story. At least for now, the story will end there--not as a painful cliffhanger, but before our heroes transition to the next phase of their adventure.
There are no plans to continue beyond that at this point. But it felt like a terrible shame that other people couldn't enjoy the story thus far.
Editing by Two Bit and Sparktail, cover by Zutcha. The works.
Chapters (11)