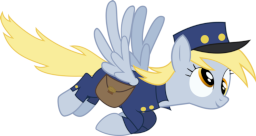 Curse that dratted mailmare!
Bon Bon makes candy. It's just in her nature. She's done it since she was very small. However, many of her usual customers are going to Canterlot, for Doughnut Joe has revealed new pastries and candies the likes of which Equestria has never seen. Bon Bon isn't happy about that, so when she discovers that the secret ingredients for Joe's candies are being transported from Ponyville by Derpy, she gathers some cohorts together to stop that Derpy!
Inspired by the old cartoon Dastardly and Muttley in their Flying Machines.
Find this story and more in a print copy! Just click these words here!
Chapters (1)