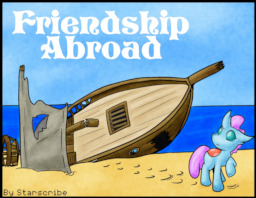 Source
Every student of the School of Friendship had to complete a capstone project before graduating. While the other students wrote songs, baked cakes, and other ordinary things, Ocellus and her friends decided to make their last project together count--they built a ship, and planned to sail it north all the way up the coast to Manehattan. But none of them were terribly good sailors, and they never could've imagined what found them on the water...
Now they've been washed ashore in a strange land, surrounded by creatures they never imagined in their wildest dreams. To survive long enough to make their way home, they might just have to make some new friends.
---
Writen as a Patreon reward for Vilken666. Editing by the usual starpub crew, Two Bit and Sparktail. Cover by Zutcha.
Updates Mondays.
Chapters (32)