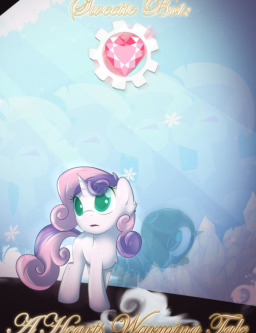 Source
Sweetie was just a normal little filly, waiting for hearth's warming eve to arrive. That time of year when all little fillies are suppose to be happy and all hearts burn the brightest.
But when the latest Cmc stunt goes a little to far, Sweetie makes a horrifying discovery that turns her world upside down - and turn her friends against her.
Unable to bear the haunting looks of others, she runs away from home.
Thus - with the world seemingly stacked against her - she sets of on a journey to try and discover the truth behind her existence, and the secrets of her origin. And above all else if there is a place where she belongs.
Or will this be a heart's warming eve she'll be forced to spend alone?
(Warning: A Grimdark tale with scenes some readers might find both disturbing and heartbreaking)
Cover art by the amazing EstrosianHeaven.
Chapters (32)