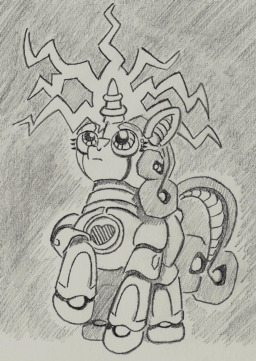 Source
Having come to terms with herself as a cybernetic construct. Life for Sweetie Belle continues as ordinary as ever. Well … As ordinary as it can get when you are still trying to come to terms with all that your mechanical body can do.
But hey... Who said being a robot can't be a ton of fun?
Life is about to get even more interesting when Twilight reveals a new upgrade. An invention that might allow the mechanical unicorn to preform magic.
Together with her all to helpful friends. Sweetie gears upp for a day of constant tests and power shortages that will push the experimental technology to the limit.
All in the name of magical science, of course.
Because hey... who said that science cant be a ton of fun?
Chapters (16)