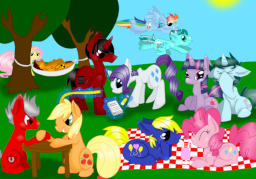 Source
What happens when the Reds and Blues finally get Church out of the Epsilon unit? Caboose decides he wants a turn in the unit, of course! What happens next? Well let's just say he always did say he wanted a pony, now he has a world full of them.
[Before asking questions in the comments, please read!]
- The first chapter is the end of the ninth season. I put it there just to ease the flow of the story.
- You will probably be extremely confused if you have not seen the last two seasons of Red vs Blue.
- You will probably be even MORE confused if you have never heard of Caboose.
- I placed a series of hyphens to show when the story becomes my own work during the prologue.
- Click here to watch the series if you have not.
- FAQ
Uploaded to FimFiction: Monday, March 5th, 2011 at 2:30 PM.
Uploaded to RvBfics: Monday, March 26th, 2011 at 11:50 PM.
Linked on Bungie.net: Saturay, March 31st, 2011 at 3:29 AM.
Proofread/Edited By - Pissfer
Current Title Image:
The Group by ~Butts-are-Nice
Past Title Images:
Caboose and Pinkie by ~SarahWidiyanti
Caboose and Pinkie by ~Farore769
Church and Twilight by ~Farore769
Dramatic Readings:
ShadowflashMLP
Fan Art:
Caboose's Drawing by ~Depressing Rain
Chapters (257)