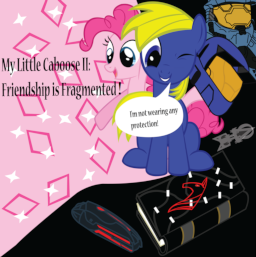 Source
This story is a sequel to My Little Caboose: Blue is Magic!
---
It has been one month since the Elements of Harmony were used to trap Discord again, and it has been one month since Twilight lost one of her closest friends, the only consolation of which being that Church was finally getting some well deserved rest. At least, that is what she and the others believed. Discord, still trapped within Church's mind, has been picking away at his sanity the entire time, messing with his memories, making him forget what was real and forcing him to remember what wasn't. When he finally escapes, will Church be able to distinguish between reality and the memories Discord tampered with, or will his slim grip on reality finally give out?
If the ponies he is led to believe are his friends are of any indication, probably the latter.
[Before asking questions in the comments, please read!]
- This is a sequel to the completely unjustifiably popular, My Little Caboose: Blue is Magic!
- You probably will be extremely confused if you have not read that before this.
- You probably would be even MORE confused if you have never heard of Caboose.
- Click here to watch the series if you have not.
- FAQ
Chapters (90)