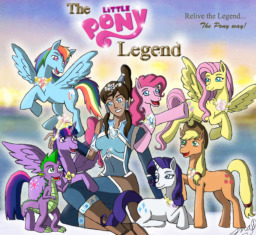 What if instead of a chest, The tree of harmony gave Twilight a book with strange writing and a heart shaped gem on the cover. After reading a mysterious rhyme: "When the time is right. Underneath the same light. A bond will ignite. At very first sight." The Mane Six, and Spike, are all magically sucked in and they travel to a world with no ponies or magic, but humans and...bending! People who can control the four elements of nature. With no way to get back home, they stumble upon a new friend: Avatar Korra, a fiery but big hearted young girl with an extraordinary destiny. Upon first glance, the Ponies all feel an instant connection with the young girl, who might also be the key to them returning to Equestria and uncovering the secrets of the book, while at the same time help Korra to defeat an evil masked man named Amon who vows to rid the world of bending with his mysterious and terrifying powers.
Now the ponies will need to adjust to their new environment: a whole new world where people seem to loose sight of friendship almost too easily, but Twilight sees that there is hope, as they show Korra the ways of Equestria and with that, the ponies and avatar start to change their world for the better, by helping everyone see that Friendship is exactly the kind of magic that this world truly needs.
Featuring new parody songs of all of your pony favorites. Experience a whole new side to the Legend and a whole new side to the Magic!
Read the one shot story "Cutie Troubles" staring Mako and the Cutie Mark Crusaders, and "Tales of Equestria", a retelling of season 4 of MLP
https://www.fanfiction.net/s/10264379/1/Cutie-Troubles
https://www.fanfiction.net/s/11140115/1/The-Little-Pony-Legend-Tales-of-Equestria
Chapters (12)