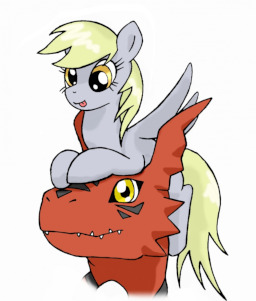 Source
"Actually, scratch that. I think I'm going to keep that promise after all."
All Takato wanted to do was see his friend again. So badly in fact that when the portal to the Digital World opened up again, he went through it alone. But the Digital World is not at all where he ended up. Instead he finds himself in a whole other world filled up with these colorful talking horses who have never even heard the term "Digimon" before in their lives. And if that wasn't strange enough, his Digivice is telling him that Guilmon is there too.
But his troubles don't end there. According to the ruler of these creatures, there has been a dark threat looming over them for quite some time and they now are in need of help. Eager to help and reunited with his old friend, Takato is determined to not leave until the threat is dealt with.
Twilight Sparkle, along with the rest of her posse are about to get a new definition to the word "Friendship".
(Takes place after "Such Sweet Sorrow" but before "Runaway Locomon")
Chapters (8)