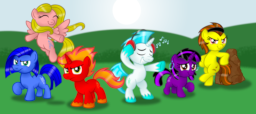 Source
Twilight's library is chock full of books. And her life along with all of her friends are about to be turned upside down. When she stumbles across a secret area in her library she never knew existed, she finds an old book along with a letter hidden in the pages. Now Twilight and her friends set out on a journey to find six more ponies who come from the country that neighbors Equestria from the East. Alamante. The land of elements and a place where everypony has a unique gift over one of the six elements of nature. Wind, fire, ice, plasma, water, and earth.
Once found, Twilight, Fluttershy, Applejack, Rarity, Rainbow Dash, and Pinkie Pie must learn to use the Elements of Harmony and combine them with the forces of the six Elements of Nature. Join up with Twilight and her gang along with Typhoon, Terra, Agua, Gem, Pyro, and Cryo as they work together to try and save Equestria from an evil force thought to be gone, and learn a friendship lesson none of them ever thought imaginable.
Rating changed to teen for language and violence.
Edited by: codejunkie Sharky Blahman2816
Chapters (39)