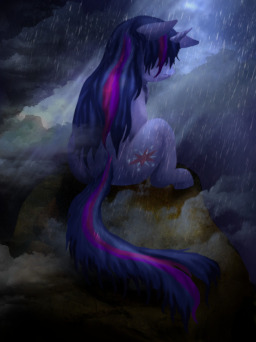 Many years have passed in Ponyville and Twilight Sparkle has never yet found love. Until this point, she thinks she never will find it. Although she hasn't put that much thought into her romance life, she stumbled upon a very old and dusty book hidden in the depths of her library. Twilight finds her old scrap book and remembers her childhood when she lived in Canterlot. Upon seeing the Scrap Book, she is determined to set off to find some old friends, before the ones in Ponyville.
Although this tale of Twilight is meant for her to re-unite with childhood friends, and with a stallion she's denied, Winter's unforgiving season will determine the fate of her love, her friends, and her sanity.
Note: This story will have alot of mood change. Prepare for some funny moments and depressing moments to... boring moments/tension build up moments.
Fun: On the side from all this, try to spot out as many Vietnam referances in this story.
Chapters (19)