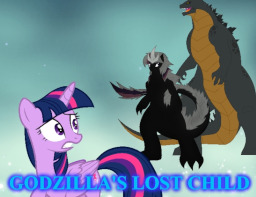 Godzilla, the King of Monsters. A terrifying beast of epic proportions, but he wasn't always this way. He was supposedly the last of his kind, the last Godzillasaurus, or at least he thought he was. When the United States bombed the city of Hiroshima, however, the excess radiation caused him to mutate into the form we know.
Eventually, after the death of his daughter, he decided that the humans should pay. He put up a good fight, yes he did, but the humans eventually defeated him and froze him in ice. Now, millions of years into the future, he finally breaks out and rampages into what he thinks is the Upper Canadian regions of North America.
But this isn't North America, well, at least not the one he knew anyway. He'll be in for a big surprise, and so will a certain purple pony. What exactly, all I have to say is... tune in to find out.
---
This is a reboot to my old story: Daughter of Godzilla. Since there are complaints of a messy plot, I made this story. Let's put this revival to the test, shall we?
All vectors belong to their respective owners. Twizilla belongs to Pyrus-Leonidas. The cover art itself belongs to me.
Chapters (14)