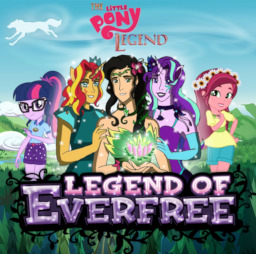 Will you find your greatest glory?
Will you be a falling star?
Here to learn what nature teaches
Here to learn more who you are
Two and a half years after the defeat of Kuvira, and harmony has returned to Republic City. However, there is trouble brewing in the Mirror World. Human Twilight Sparkle, now grown, is experiencing dreams involving her former monstrous self, Midnight Sparkle, and Camp Everfree, the place she and her friends went to for their senior class trip. And the last place they had their magic. After several years, the Rainbooms reunite and call upon Sunset Shimmer, informing her that their lost magic might still be in Camp Everfree.
Sunset immediately answers the call, accompanied by her friend Starlight Glimmer, and a new ally....Kuvira.
Princess Korra has tasked the former dictator to assist the unicorns in unraveling the mystery surrounding their childhood campsite, as part of her ongoing journey to redemption. However, Kuvira is genuinely remorseful for her past actions, to the point of immense self hatred, making it difficult for Sunset and Starlight to reach out to her. At camp, the Rainbooms are reunited with their old friend, Gloriosa Daisy, and Flash Sentry's old camp bro, Timber Spruce. As it turns out, Twilight's dreams were on point, for the girls all start gaining new magical powers, even Kuvira, a mysterious wolf continuously appears, and Timber and Gloriosa are no longer the people Sunset and her friends remember.
All the while Kuvira struggles with her past, and fears if she gives into these new powers, then the siren creature she once was will resurface once again. Will the Rainbooms manage to restore the magic and save their friends? And will Kuvira find the courage to write a new happy ending to her story?
Chapters (14)