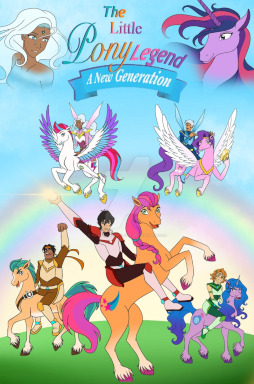 In another world
In another Equestria
A new legend is born
In a parallel version of Equestria where ponies coexist happily with each other, and with their elven brethren, the world was once protected and guided by The Paladins of Harmony. But after they dispersed, the world fell into ruin. The three pony types—Earth ponies, unicorns and pegasi—and the three elf types—earth elves, mages, and fairies—now only live with their own kind.
Earth ponies and earth elves reside at the bay.
Unicorns and mages in the forests.
And pegasi and fairies in the high mountaintops.
Sunny Starscout is an earth pony living in the seaside town of Maretime Bay, alongside her adopted brother Keith Kogan. They grew up with stories about the Paladins of Harmony and Sunny still believes there is hope for this divided world.
One day, a lost unicorn named Izzy Moonbow and her mage friend, Katie Holt, wander into Maretime Bay. The town's residents react in panic, believing that Izzy and Mage are hostile invaders. Sunny and Keith, finally given an opportunity to make friends with a unicorn and mage, shelters Katie and Izzy in their home, and the two reveal that unicorns and mages no longer have magic powers following their sudden disappearance.
Together, with their childhood friends, Hunk Garret and Hitch Trailblazer, and the Pegasi princesses, Pipp Petals and Zipp Storm, along with their fairy friends, Lance and Allura, they embark on an adventure and travel across Equestria on a mission to restore magic to the land.
Chapters (26)