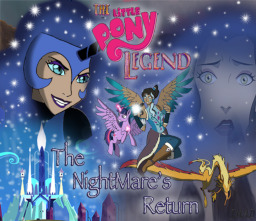 Friendship can bring even the darkest heart back into the light.
After she nearly survived the Red Lotus and Tirek, Korra is finally feeling like her old self again. But while she is joyful at long last, her friend Asami is still struggling with her feelings for Bolin. When Korra and Twilight receive invitations to the Crystal Empire Winter Ball, Asami sees this as the perfect opportunity to make her move.
But not all is well when Korra and the others begin receiving nightmares from their pasts and Asami begins to behave uncharacteristically harsh and bitter. The celebrations are put to a horrible end when Asami suddenly becomes possessed by the spirit of NightMare Moon, takes Twilight Sparkle hostage and vows to plunge the entire world into an eternal dark winter!
Now Team Avatar must venture into the spirit world to find Wan Shi Tong, who has taken the Prophesy Book, which contains the answer to saving their friends before time runs out. But they will need to face their own worse fears before they can conquer the darkness.
Will The Magic of Friendship prevail, or will it, for once, be their greatest downfall?
Chapters (12)