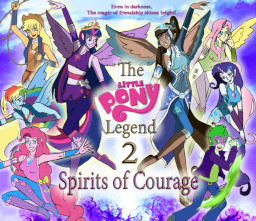 Even in darkness....the magic of Friendship will shine the light!
Six months after Korra met the Ponies and defeated Amon, her life is so far perfect; she's a fully realized Avatar, she has a great boyfriend, amazing friends, and she's fallen in love with Equestria and it's magic. However, her perfect life is soon cut short. While on a trip to the south pole for the annual Glacier Spirits Festival, Korra and the Ponies discover that the spirit world is dangerously unbalanced. Determined to prove her worth as the Avatar and bring back balance to the sprit world Korra decides to train with her wise yet mysterious uncle, Chief Unalaq who has the power to control spirits. But dark spirits might be the least of their troubles. More evil forces are on the rise, dark forces which could destroy not only Korra's world...but Equestria as well.
With the power of the Elements of Harmony, and the guidance of the mysterious Leilani, the girls are on a race against time to save both of their homes. Battles will be fought, loyalties will be tested, and some friendships will fall at the seems.
In this thrilling magical sequel to the heartwarming legend, one young girl and six brave ponies must work together to bring back the balance and learn that while it takes a strong person to admit mistakes, it takes an even stronger person to make things right. And it especially helps when you have true friends by your side all the way through.
Chapters (16)