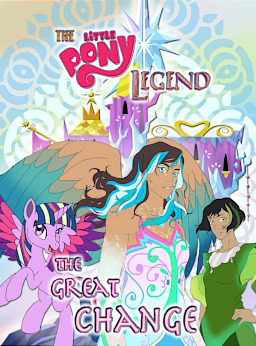 A new Age has begun, and so have the adventures of Korra and the Mane Six.
After saving both the human, spirit and pony worlds, Korra has gained her wings and transformed into the very first human alicorn Princess! However, just because she has a crown now, that doesn't mean her job will be any easier. Magic and spiritual energies now flow across the human world, creating enormous spirit vines, granting ponies bending and anthro forms, and airbenders popping out all over the Earth Kingdom. But while Korra has her hands full, Twilight Sparkle is unsure about her role as princess in Equestria or if Korra really needs her now.
When the group heads out to find more airbenders and re-establish the air nation, they soon realize that three criminals from Korra's past are on the hunt for her. Questions circulate their motives as well as the mystery of the Harmony Chest, which has yet to be open, as well as a blossoming possible romance between Bolin and Asami. But will the new girl Opal get in the way of that? Will Korra manage to defeat these new criminals, or will they prove to be her most difficult and most terrifying foes yet? Or will another foe prove to be her toughest?
Get ready for yet another epic Pony-Fied retelling of a Legend filled with music, fun and adventure!
Chapters (20)