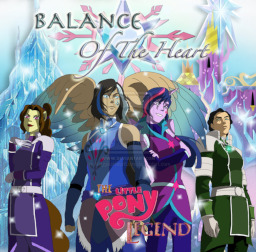 Source
Three years after Korra met her pony sisters, united two worlds, and became a princess, her life has been looking up.
Until she mysteriously disappeared.
Now, Korra is lost in her own self- misery while her friends are doing everything they can to find her, and when they do Korra will need to move on front the past in order to stop a power-hungry dictator named Kuvira and restore balance to her home. But will Korra be able to overpower the curse placed upon her, and will she have the courage to put her own feelings aside to stop Kuvira, who was once her friend.
Friends and foes, old and new collide in this epic conclusion to the epic saga. With new songs and new faces and surprises around every corner.
Chapters (16)