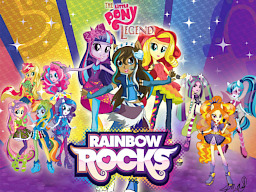 After nearly escaping Zaheer and defeating Tirek, Korra and Twilight will never be the same again.
Thinking a change of scenery is needed, Korra decides to move in with Twilight at her new palace, but their relaxation is cut short when they receive a message from Sunset Shimmer in Canterlot High, informing them that three new students have suddenly arrived and plan on taking over not just the school, but the world.
The Princesses travel through the magic mirror and Korra meets the human counterparts of her bonded ponies for the first time, as well as mentally scarred Sunset Shimmer, who is still struggling with letting go of her past and is plagued by nightmares and visions of her monstrous self. The girls band, The Rainbooms compete in the school's Battle of the Bands in order to defeat the three girls, The Dazzlings, before they turn the whole school against each other.
But, will Twilight be able to get her mojo back in order to make the counter spell they will need to defeat their foes? Will Sunset Shimmer relinquish her past in order to move on and help her friends?
Sometimes, the best way to solve your own problems...is by helping someone else with theirs.
Chapters (11)