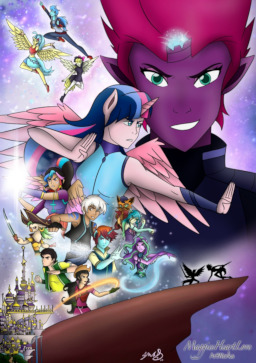 Avatar Korra and Twilight Sparkle's daughters, Princess Iris and Princess Akari have their hands and hooves full with preparing their very first Friendship Festival in Canterlot! Now young adults, the girls and their fellow Guardians of Harmony have alot cut out for them, but they are determined to honor their family.
The festivities are cut short when a mysterious pony from their parents's past named Tempest Shadow arrives with an army of the evil Storm King and invade their beloved homeland! The Avatar and the Mane Six have been turned to stone, and the children have been separated from their loved ones. Now, in order to save their families and their homeland, The Guardians of Harmony will do what no one has ever done before: Venture beyond the borders of Equestria into parts unknown!
Their skills and friendship will be put to the test as they face off against con artists, sky pirates and the villainous Tempest Shadow, who is determined to capture the princesses in order to regain her broken unicorn horn.
Witness all the magic, fun and action in this epic conclusion to the five year long crossover saga!
Chapters (23)