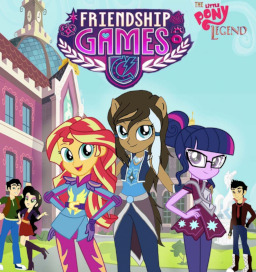 Canterlot High is preparing for the upcoming Friendship Games against their long time rivals, Crystal Prep Academy. But, when the Magic Mirror in Equestria begins acting strangely, Korra, Mako, Bolin and Asami travel to Canterlot High in an effort to figure out what happened. Along the way, they meet up with Sunset Shimmer and the Rainbooms, who are also struggling to understand the true source of their magical "pony-ups"!
As if preparing for the games and unraveling the mystery of the portal weren't enough, now the Team must deal with a very curious Crystal Prep students who is just as close to uncovering the mysteries of the magic as they are. What's even worse...she's Twilight Sparkle's alternate human form!
Can Team Avatar Harmony help Canterlot High win the games? Or will the magic be too powerful to keep hidden, and will this new Twilight uncover something far more sinister.
Chapters (10)