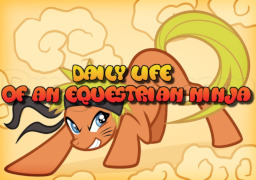 It was a few days after Pain's devastating attack on the Village Hidden in the Leaves.
Half of the town was completely wrecked, but eventually Pain was stopped, and luckily there were no casualties.
This was thanks to Naruto Uzumaki, now hailed by the townspeople as 'Hero of the Leaf'.
Things were really looking up for him, finally being respected, rather than shunned and hated by the citizens.
However, all this becomes meaningless when a mythical creature appears at his doorstep, and somehow kidnaps him into another universe.
Now a stranger in a world full of colorful ponies, Naruto tries to conceal his identity until he can find a way to get back home.
But with a millennium old evil soon making its return, he might find he plays a much bigger part there than just an unintentional visitor...
---
Please review after you read it! Constructive criticism is always welcome!
AU tag is there for a reason, even though it is not obvious at the beginning.
---
Many thanks to SkittlesJesus for providing me with (yet another) epic cover art!!!
---
Many thanks to my editor Viper Redbird!!!
The story is currently undergoing fixing of mostly grammatical and punctuational errors.
Chapters (36)