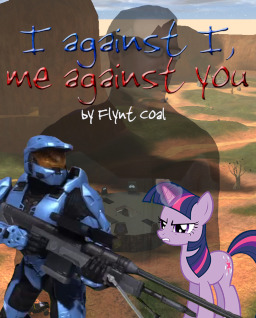 Everything changes for Twilight Sparkle and her friends when a mysterious extraterrestrial ship crash lands in Equestria. When Twilight messes around in the ship's systems with her magic, she ends up transported to an alien world unlike anything she imagined: a box canyon in the middle of nowhere.
To get home, Twilight must enlist the help of the eccentric Red and Blue soldiers that live there... if she can get them to stop bickering first! Additionally, she finds herself being pursued by the enigmatic military agency known only as Project Freelancer. Back in Equestria, all is not well for Twilight's friends as forces involved with the crashed ship make themselves known. Reds, Blues and ponies will all have to work together to discover the mysterious connection between Equestria and Project Freelancer.
A crossover with Red vs Blue. Written with the intention for the story to be followable without having watched the series. (just don't expect to get all the references).
Now with editors! BradtheBrony and Rough_Draft.
I made a blog post explaining things. You should read it.
Chapters (38)