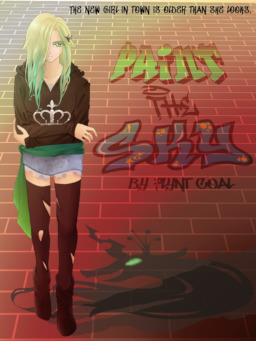 This story is a sequel to Golden Age of Apocalypse - Book III: Legacies
---
Cover art drawn by DreamingKitty
Centuries ago, Chrysalis was the daughter of a nobleman in Italy. Then, she was the slave of a tyrant in Equestria. After that, she was the queen of the changelings. Then she was no one; a broken soul waiting to die. And then... she was saved.
Now, Chrysalis is no more than the child she always was, before fate and the whims of monsters stole her innocence. Now, Chrysalis has a family, and a new lease on life. She lives in the care of Celestia, the human counterpart to one of her oldest enemies in Equestria. The very same caring woman who pulled her from the depths of despair after her final defeat as Queen Chrysalis. What's more, her life is about to take another drastic turn: she's starting school at Canterlot High.
For one who has seen and suffered as much as Chrysalis, high school should be a breeze. However, it comes with its own set of challenges. New friends, new enemies, and more homework than she can blast with changeling magic! But more challenging still are the old demons still festering in the depths of her heart and mind. If Chrysalis has any hope of truly starting life anew, she'll have to put those demons to rest once and for all. And what better way to do so than with the love and support of family and friends?
Chrysalis always needed love to survive, after all.
Part of the Berylverse, a collaboration with Shinzakura and BlueBastard
Chapters (11)