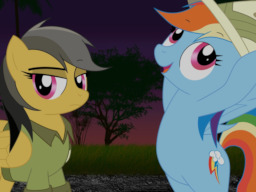 Source
Is meeting your hero always such a good thing? How can they ever live up to your image of them if you view them on a pedestal?
While attending Daring Do's panel at a convention in Canterlot, Rainbow Dash wins a contest. The prize? A chance to join the famed archaeologist's team as an assistant on her next expedition. Naturally, Rainbow Dash is thrilled at the idea of an adventure with Daring Do, knowing that the archeologist bases her books on real events. As Rainbow gets to know Daring and her rag tag team of explorers though, she gets the feeling of dissent among the ranks.
Soon, the expedition proves to be more dangerous than anticipated, with a mysterious and dangerous cult after the same artifact as Daring. Rainbow Dash has to stop them while facing the reality that Daring Do may not be the hero her books make her out to be.
Big, big shout out to IFLYSNA94 on Deviantart for letting me use his cute art!
Also, I am well aware of the existence of the S4 episode of the same name (having been keeping up with the show like any self-respecting Brony). At the time of conceiving/writing this story though, I had no idea there would even be another Daring Do episode!
Chapters (2)