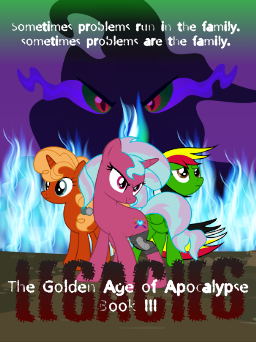 This story is a sequel to The Golden Age of Apocalypse, Book II: Synchronicity
---
It's been a long journey, filled with adventure and obstacles, new allies and enemies. The worldview of Equestria and Equus itself has been radically shaken as the existence of humans - and Sunset Shimmer's presence among them - is made public.
However, Equestria has managed to weather the storm, comparatively mild when put up against the war with Tirek and the brutal Winter of Aftermath that followed. The crowning of another alicorn princess, the very daughter of Princess Celestia herself, will mark the true rallying point for Equestria's rebuilding.
But behind the scenes, trouble still lurks. Of Sombra's alleged successors; the Scions, only three are known - the fourth remains a mystery. Enemies within and without wait for their turn to strike. And a terrible secret buried at the heart of it all will throw the understanding of the very history of Equestria itself into question.
Chapters (33)