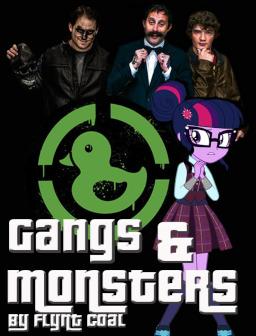 It's Twilight Sparkle's first week at Canterlot High School after the Friendship Games—after she unleashed the magic and turned into a monster. Sure, Twilight has Sunset Shimmer and her friends, but the rest of the school has not forgotten, and many have not forgiven.
Half a state away in Los Santos, the once powerful criminal organization known only as the Fake AH Crew is near the end of its rope. Geoff the Boss is in prison, and his gang is losing territory. But the Fake AH Crew have one last play to make: If they can spring their boss, they may have a chance to reclaim everything they lost.
But when fate brings the Fake AH Crew to the small town of Canterlot, everything begins to unravel. A web of plots ensnares the little community, turning it into a powder keg waiting to explode. At the center of it all is Twilight, hoping to prove to her friends and to herself that she's not a monster... even if it means facing very real ones.
Edited by BradtheBrony
Chapters (6)