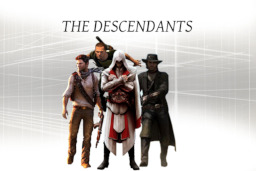 Princess Celestia and Princess Luna are loved by all citizens across Equestria. It is common knowledge that they are both over one thousand years old. However, no one really knows where they came from, or how they came to be. When the princess of the night notices a strange star in the night sky, all that starts to change.
With Equestria under threat from a powerful new enemy, Princess Celestia calls upon four warriors from an alternate universe; four warriors with a special talent. They are descendants of our world's First Civilization. When they arrive in Equestria, Twilight Sparkle soon finds out that they are not so different from the princesses after all.
Rated T for language and violence.
NOTE: This story will contain spoilers for the games: Assassin's Creed II, Uncharted 2 and 3, Red Dead Redemption, and inFAMOUS 2, as well as the short film Assassin's Creed Embers. Read at your own discretion.
MLP © Hasbro
Assassin's Creed © Ubisoft Entertainment
Red Dead Redemption © Rockstar Games
inFAMOUS © Sucker Punch Productions
Uncharted © Naughty Dog, Inc
Chapters (17)