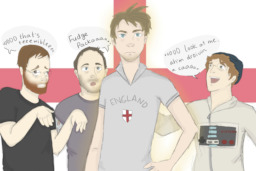 Source
When a spell by Twilight Sparkle brings the Achievement Hunter crew to Equestria what will happen? Will the crew be able to help ponies get achievements? Will they be able to help them get real life achievements? Will Geoff and Jack be able to keep their sanity? Will Ray and Michael be able to hold their excitement? Will Gavin continue to be an idiot? We might only be able to know the last one! Read on to find out!
A/N: This was just a completely random idea that popped into my head when I saw a picture of Applejack with Jack's beard being called "AppleJack Patillo." There will be no shipping or big adventures in this. Just a funny random idea. Enjoy and please if there are any mistakes do not hesitate to tell me! I wish to improve!
Rated Teen for Excessive Cursing. You have been warned!
Picture is from http://amylupus.tumblr.com
Chapters (4)