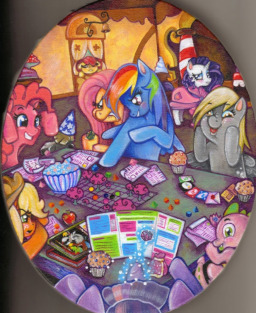 Source
MADE IT TO POPULAR STORIES! UPDATE! MADE IT TO MAIN PAGE RECOMMENDED BOX!
"Okay everypony! Time to play Oubliettes and Ogres!" Twilight said, holding up the reference book like the ponies hadn't seen it multiple times before.
Pinkie Pie clapped her hooves. "Oh silly-filly, we can say 'Dungeons and Dragons' we're both owned by Hasbro!" She was ignored.
"Dungeons and Dragons, I mean, Oubliettes and Ogres? Don't you know that's Nightmare Moon's game?" The Doctor gasped sticking his head through the window.
Princess Luna pushed him out of the way and stuck her in the window and shouted, "Just because we were mad with jealous and bruised ego, does NOT mean all our hobbies at the time were themselves evil!"
Twilight Sparkle blinked and uncurled an ancient scroll examining it closely. "At least that explains the ancient 'Slay the Tyrant Sun' campaign module from the ancient first editions I found in the Castle of the Two Sisters."
Luna blushed.
This is a group-story/addventure/chain-story/round robin, fanfic 'story' of the Mane Six Plus Spike playing Dungeons and Dragons/Oubliettes and Ogres, with occasional guest players (like Trixie or Gilda), with Spike and Twilight rotating as Dungeon Master. It's intended to be an IN-CHARACTER comedy.
However, except for the opening set-up post, each post should be more self contained, if say (in joke) Twilight is fire balled by a Mimic in one post in a desert pyramid, the next post can have them sailing a ship encountering seaponies siren expies, each one containing a short joke, or an extension of a previous scene if that's what the poster wants. Time skips, flash backs, the ponies rotating different characters and campaigns, are all allowed (and ENCOURAGED) as long as the ponies stay in character (such as Pinkie Pie NOT fireballing a cabbage sales stallion and saying she thought he was a demon, thank you very much).
There are prototype rules and may change with time.
It's also intended to be an INDEPENDENT UNIVERSE from the Pony POV Series OR the Pinkie Pie Variety Show! So things aren't esoteric.
What's you post in the comments, it's then copy and pasted into the fic above, have fun.
Basic rule: EVERYONE IS IN CHARACTER!!!!
Cover image by SolanumEpidemic
TROPE PAGE LINK:
http://tvtropes.org/pmwiki/pmwiki.php/Fanfic/PoniesAndDragons
Chapters (109)