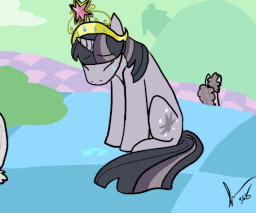 Personal Pros Of Poor Ponies Possessing Possible Post-traumatic Stress Disorder Brought On By Discord The Deity of Chaos' Mind Games Forcing Them To See the Flip Side Of Their Element Or Appealing To Their Worse Nature Or Outright Cheating With One.
First up, is being the most honest pony in Ponyville worth it if it costs you your friends?
Second up, you're a clown and you know it and parties are where you shine. But why should the joke be on you? Why should you suffer just for their amusement?
Third up, and yep it's Rarity! Being generous to others is good and all, but what about me? But I worked for what I have!
Forth in the Discord Pony Series. Fluttershy. You don't surrender to your demons, you know you're not perfect, you know your friends are there for you . . . so why do you have to lose anyway?
And now we've come to the fifth. Rainbow Dash. As loyal as pony could be. Her loyalties are impossible to break! But fun science fact! Nothing is unbreakable when struck against itself.
We are the sixth and it's . . . TRIXIE?! You've had something precious your whole life. But you never noticed it, appreciated, or even realized how much it was a part of you until it was gone.
And now we've to Twilight Sparkle. Nothing more to say now. Read for yourself.
And we've come to the epilogue. Tell me what you think and what you feel, because I feel this piece is meant to speak for itself.
The Dramatic Reading version for the entire first season with original fan-music is found here! http://www.youtube.com/watch?v=ClMeWbsJ7wQ&list=PLB51B70AAB7E85A69&feature=plcp
Recursive fan-works found here. http://alexwarlorn.deviantart.com/journal/MLP-FiM-Pony-POV-Series-Fanworks-audio-adaption-274110361
THIS IS NOT THE END! There is a light at the end of the tunnel!
Chapters (8)