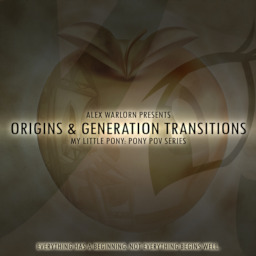 Discord beaten. Reality restored. But invisible wounds must heal too. Pinkie Pie, and Celestia, tell their stories, memories long buried, and the connect between the different generations of My Little Pony are revealed, and the stunning truth of how they connect to the origins of Equestria.
Who is Firefly?
Who is Patch?
Who is Minty?
Who is the pony Kimono, and how is she connected to Zecora?
Season four of the Pony POV Series is here on FIM.
Laughter, tears, smiles, actions, adventure, frights, darkness and light and heart-warmings ALL await you!
The Audio adaption Is here: http://www.youtube.com/watch?v=0GqJMx6kYyU&list=PLABD0AEFCD46D56DA&feature=plcp
ORIGINAL fan-art, ORIGINAL fan-music and VOICE ACTORS galore await!
I promise this will be one ride that will not disappoint.
Recursive fanart and fan stories are here. http://alexwarlorn.deviantart.com/journal/MLP-FiM-Pony-POV-Series-Fanworks-audio-adaption-274110361 Many are rubber stamped by me as optional canon stories that reveal some of other sides of these stories.
Tropes page found here. http://tvtropes.org/pmwiki/pmwiki.php/FanFic/PonyPOVSeries
Fan Labor Pages here http://mlpfanart.wikia.com/wiki/My_Little_Pony_Fan_Labor_Wiki:Workshop/Pony_POV_Series_Season_Zero:_Discorded_Ponies and here. http://mlpfanart.wikia.com/wiki/My_Little_Pony_Fan_Labor_Wiki:Workshop/Pony_POV_Series_Season_One:_Reharmonization
Cover image by Mystery Ezekude. http://mysteryezekude.deviantart.com/
Chapters (10)