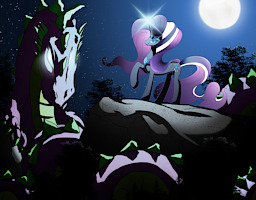 Well, the Nightmare Forces kidnapped Rarity, they broke her, and then were going to possess her right? What if Rarity absorbed them instead? She's still a powerful Nightmare, she looks even more beautiful than she did as a flesh and blood pony, and she just wants to give gifts, spread generosity, and help Equestria's ponies. But first she needs to convince everypony she's not just pretending to be Rarity and isn't evil incarnate. She's convinced Spike . . . now how does she convince the rest of the world?
The Benevolent Reign Of Queen Nightmare Rarity
STORY BY Alex Warlorn and trooper924
Inspired by and SUBVERSION of the Nightmare Arc of the My Little Pony comics.
And fanart by Hellbeholder, used with permission. http://hellbeholder.deviantart.com/art/Nightmare-Rarity-and-her-Spike-404955331
This started out as a simple RP in the comments section inspired by the art seen here.
This story has ZILCH to do with the Pony POV Series universe.
MLP FiM Copyright Hasbro
Chapters (1)