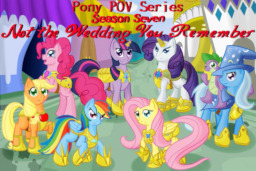 Adventure
Alternate Universe
---
Howdy hoo! The seven season of the pony pov series is here at last! (Was waiting for the cover art to be done).
And . . . it's the royal wedding Princess Cadence and Shining Armor!!!
Seen this a million times before right? Except . . . not. While there have been many experiences to the ponies now their timeline has broken away from the Heart World, something is VERY WRONG here. With fate no longer totally on their side, and no true certainly and against an enemy that takes 'fighting dirty' to a whole new level, can the heroes still pull off a happy ending for everypony?
Cover art by Rose-Laxzi. http://rose-laxzi.deviantart.com/
The Audio adaption Is here:
ORIGINAL fan-art, ORIGINAL fan-music and VOICE ACTORS galore await!
And check out the trope page, please help keep it up to day please! Remember, you are awesome.
Recursive fanart and fan stories are here. http://alexwarlorn.deviantart.com/journal/MLP-FiM-Pony-POV-Series-Fanworks-audio-adaption-274110361 Many are rubber stamped by me as optional canon stories that reveal some of other sides of these stories.
Tropes page found here. http://tvtropes.org/pmwiki/pmwiki.php/FanFic/PonyPOVSeries
Fan Labor Pages here http://mlpfanart.wikia.com/wiki/My_Little_Pony_Fan_Labor_Wiki:Workshop/Pony_POV_Series_Season_Zero:_Discorded_Ponies and here. http://mlpfanart.wikia.com/wiki/My_Little_Pony_Fan_Labor_Wiki:Workshop/Pony_POV_Series_Season_One:_Reharmonization