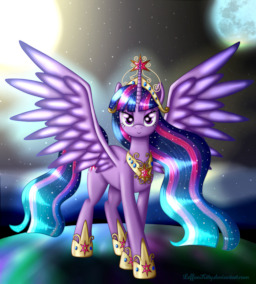 Source
While this story includes several dark fics, the idea is to give the happier ending then they had in canon, so it's kinda the inversion of dark.
This is a record of other pony fanon worlds visited by Amicitia, aka Alicorn Princess Twilight Sparkle that came to a bad end. And her attempts to nudge things to a brighter future. Can she do it without crossing the line? And the spirit of tragedies lies in the background, determined to punish Twilight for her meddling. Set in the Pony POV Series verse.
Written as a group effort over on deviantart, this group story was written by several authors, I just helped compiled them together.
Anyone can write one.
Amiticia's rules:
1) She can not 'assume direct control' of anyone under any circumstances.
2) She can not physically manifest unless it can be passed off as a hallucination or trick of the mind, and may NOT physically meddle.
3) If a deity who is not native to that universe has already intervened or taken part in things, Amicitia can perform much more blatant miracles to help others.
4) She can manifest as a pony's 'shoulder angel', conscience, voice of reason, voice of courage, voice of inspiration, what have you to others at critical moments. (She's able to bend this rule a little when it's that reality's Twilight Sparkle she's speaking to since she's speaking to herself.)
5) She CANNOT give information that person couldn't logically know.
6) She can speak more directly to the pets (Gummy, etc), but they CAN NOT act out of character, nor can they give information they wouldn't logically have or act in ways that don't make sense in story.
7) If something has been established as how the laws of magic or physics works in that world, Amicitia CAN NOT change it.
8) Amicitia can arrange things behind the scenes that are improbable, but NEVER impossible.
9) Amicitia once provided Applebloom and Sweetie Belle in the Friendship is Oppression verse an anonymous vision to inspire them to find the Element of Chaos, she is strictly forbidden from helping that world further under penalty of violence.
10 )Above everything, it must be like from the story's own narrative that Amicitia was not there at all, like a ghost. (Like how REAL ninja made a point of no one knowing there WAS a ninja.)
11) If Amicitia become an Insert (for example, appears, hands Applebloom the Master Sword when Bloom cornered by zombies, or blasts the zombies to ashes herself), the Blank Wolf of that timeline will erase everything she's done and she can not try again.
12) TL;DR Amicitia can not break the suspension of disbelief, create a plot hole, violate anyone's free will, or make it seem like she was there at all from the perception of the characters or the narrative.
Detailed version here: http://alexwarlorn.deviantart.com/journal/World-Building-110-Rules-For-Amicitia-517248800
Covert art by leffenkitty.
Chapters (15)