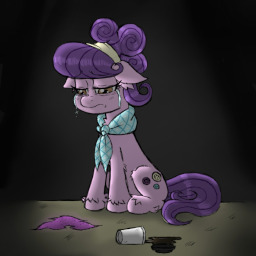 My Little Pony Pony Friendship Is Magic
Suri Polomare
Deletion
By Alex Warlorn
Suri faces the horrors of being 'deleted' now that she's serve her function as a one-off antagonist is now just taking up disc space.
With BIG help from Kendell2 (this is NOT related to the Pony POV Series IN ANY WAY WHAT SO EVER! So Kendell2 was willing to help with this one BECAUSE it was not part of the Pony POV Series).
2014 06 12 Image by Ichiban Gravity. http://ichibangravity.deviantart.com/art/TFW-444876256
Chapters (1)