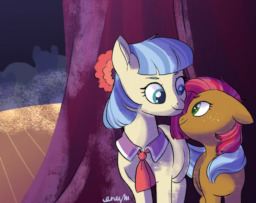 Source
Years ago, Coco Pommel rescued a young laborer in Manehattan's textile district when she was on a delivery shift for Suri. Realizing that every reformed villain or assistant needs a project, she sets out to adopt the filly, Babs Seed, as soon as Rarity leaves Manehattan. But between her daughter's troubled past, bitter relatives, and a disputing producer and director on her Bridleway set, Coco soon finds that giving love--and getting it--may be harder than anypony ever imagined...especially when it comes to forgiving herself.
Takes place during late S4 and S5. Romance elements come in Act III. Edited by Smaug the golden, Elusive Element, Harry S Faustin, and pokefreak13. Cover art by DreamscapeValley
Now with an official TVTropes page!
Chapters (66)