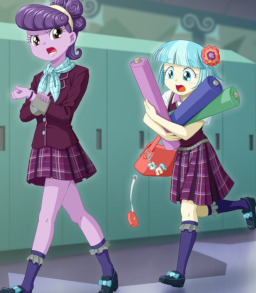 Source
Ever since her loss in the first round of the Friendship Games, Suri Polomare's life has been in freefall. The harsher students blame Canterlot High's edge on her, the reformed students see her as part of the problem, and not even her ex-best friend Upper Crust is willing to talk to her. On top of that, if she doesn't get her grade up in language arts, she'll be expelled from Crystal Prep's fashion program, but it's there that she meets her saving grace. A student desperate to make friends, who gets high marks in language arts and who--more importantly--is too new to know how low Suri is willing to go.
Who says it always has to be everyone for themselves, after all, when it's just as easy to take advantage of people like Coco?
Rated T for "authentic rebellious teen-speak." Art by uotapo.
Chapters (1)