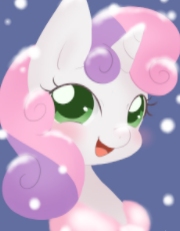 Source
"Once a Belle finds another Belle, it's a promise for good."
Sugar Belle goes to Ponyville for Hearth's Warming, even knowing Pinkie isn't there. She's unsure of her place in the new town or even in life until young Sweetie Belle find her sitting on a bench in the snow and interrupts her thoughts...
Inspired by a pun-filled conversation with FamousLastWords. Art by MrsRemi.
Approved by Tag-a-long's Book Club!
Chapters (1)