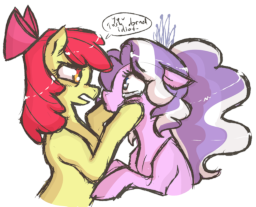 Source
"Bullies always tease the ones they like."
Diamond Tiara lives a happy, peaceful teenage life away from her mother's influence--and, more importantly, with the mare she loves. Still, as she coaches Apple Bloom on Saddlespeare and remembers pieces of her past, she can't help but wonder if the saying is true--and if her so-called "love" is really something darker.
1st place winner of Princess Amore Dudette's DiamondBloom Shipping Contest. Cover art by fastserve.
Chapters (1)