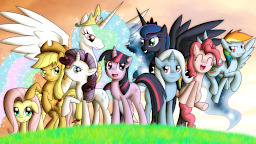 Discord is beaten, but it's the scars you can't see that take the longest to heal. Let us begin. The mane six, along with all of Ponyville, has to deal with the emotional damage done by Discord's day of chaos. One by one the heroes (and every other pony in Ponyville) must look into themselves and find the strength to face the flaws in their hearts that Discord exploited and become stronger for it.
Laughter, tears, smiles, actions, adventure, frights, darkness and light and heart-warmings ALL await you!
The Audio adaption Is here: http://www.youtube.com/watch?v=0GqJMx6kYyU&list=PLABD0AEFCD46D56DA&feature=plcp
ORIGINAL fan-art, ORIGINAL fan-music and VOICE ACTORS galore await!
I promise this will be one ride that will not disappoint.
First up is Fluttershy and for her there are no loose ends what so ever. . . . Or are there? Saying anything more would be spoilers!
Recursive fanart and fan stories are here. http://alexwarlorn.deviantart.com/journal/MLP-FiM-Pony-POV-Series-Fanworks-audio-adaption-274110361 Many are rubber stamped by me as optional canon stories that reveal some of other sides of these stories.
Tropes page found here. http://tvtropes.org/pmwiki/pmwiki.php/FanFic/PonyPOVSeries
Chapters (10)