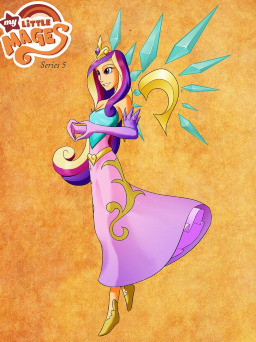 Source
This story is a sequel to My Little Mages: Erisomachy
---
It has been a month since Twilight and her friends fought and sealed Discord away in stone. However, another event in Mystica has come up for Twilight and her friends, the wedding of Twilight's older brother, Shining Armor being held in Chantalot.
Upon arriving Twilight meets the bride, Princess Mi Amore Cadenza. Upon seeing her, Twilight remembers that Mi Amore Cadenza was Twilight's former sitter, Cadance. However, something seemed off about Cadance, who wants go by her royal name. As Twilight oversees the preparations being managed by her friends and Mi Amore Cadenza being terrible behinds their back.
Twilight concludes that something is wrong.
Is Twilight right about Mi Amore Cadenza?
Is Mi Amore Cadenza just not a kind person and Twilight was wrong about her past?
Is Twilight just paranoid and perceive of her older brother?
Or is there something else going on and can Twilight stop the wicked plot unfolding within Chantalot?
Cover art, used with permission, by Didji
Chapters (4)