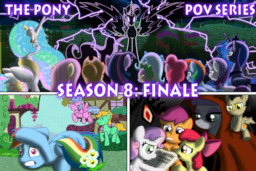 The royal wedding is over. Fate has spiraled off in a completely new direction. But the ponies have proven strong enough to overcome it and are closer friends than ever for it. The journey of the Cutie Mark Crusaders is reaching its conclusion. Discord and the Nightmare of Diamond Tiara are done preparing however, and are ready to bring the world to its knees in one swoop. And one last climbing out of the dark is needed. Years in the making. Now is the time to end this.
Shining Armor, "What is there really left to say?"
Pinkie Pie, "Except that we hope you enjoy the show."
This is it. Let's set the stage and assemble the actors.
It is time for things to come full circle!
PLEASE check out the ton of recursive fanfics of this fanfiction series. A lot of heart went into them! They also answer a lot of unaswered questions. http://mlp-pony-pov-series.deviantart.com/ For heaven sake they rock! Kendell2 and Oracle Mask and Richforce and Ardashir and Jawmax and Persona22 and Dragon of Twilight and ItsFromPeople and all the rest!!! http://alexwarlorn.deviantart.com/journal/Pony-POV-Series-Fanworks-fanmedia-By-Category-332817406
Cover art by Atomic Chincilla, the same guy who did the art for the original Discorded Ponies Epilogue and Trixie's Discording and Rainbow Dash's Reharmoization episode. http://atomic-chinchilla.deviantart.com/ I really wish I had the brains to ask him to include Scootaloo's new braid. But I had already asked him for several changes already.
Chapters (105)